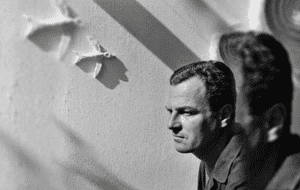 Patrick Leigh Fermor was a British author and travel writer who is best known for his books on his travels in Europe and his role in the Greek Resistance during World War II. He was born in London in 1915 and died in 2011 at the age of 96. Throughout his life, he wrote extensively about his experiences and adventures, which continue to inspire travelers and readers alike today. Here are some of his most notable works:
"A Time of Gifts" and "Between the Woods and the Water"
In these two books, Leigh Fermor recounts his journey on foot across Europe from Rotterdam to Constantinople in 1933-34, at the age of 18. His descriptions of the places he visits, the people he meets, and the landscapes he crosses are both poetic and vivid, and offer a unique insight into pre-war Europe.
"Mani: Travels in the Southern Peloponnese"
This book recounts Leigh Fermor's travels through the Mani region of Greece in the 1950s. He describes the landscape, the people, and their customs in detail, providing an intimate portrait of a remote and rugged part of the country.
"Roumeli: Travels in Northern Greece"
In this book, Leigh Fermor recounts his travels through northern Greece, a region he had visited as a soldier during World War II. He writes about the people he meets, the villages he stays in, and the historical and cultural significance of the places he visits.
"The Broken Road"
This book is the final volume in Leigh Fermor's trilogy about his travels in Europe. It was published posthumously and is based on his notes and drafts from the 1970s and 1980s. The book covers the final leg of his journey from Budapest to Constantinople, and provides a fitting conclusion to his epic travel narrative.
"Abducting a General: The Kreipe Operation and SOE in Crete"
This book is Leigh Fermor's account of his role in the kidnapping of General Heinrich Kreipe, the commander of German forces in Crete, during World War II. Leigh Fermor led a team of British Special Operations Executive (SOE) agents and Cretan partisans in the daring operation, which was a significant blow to the German occupation of the island.
Overall, Patrick Leigh Fermor's works offer a unique perspective on European culture, history, and society. His love of adventure, his poetic writing style, and his deep knowledge of the places he visited make his books a must-read for anyone interested in travel writing or European history.
We currently hold a number of rare first edition books written by Patrick Leigh Fermor – click here