JOHN ATKINSON
John picked up his first first edition book at a car boot sale for 10 pence when he was 7 years old. He graduated from the University of Essex with a BA (Hons), followed by an MSc. and PhD at the University of Newcastle, specialising in Sociophonetics.
The choice between academia and the world of rare books was an easy one and John has been buying and selling since 2007. His specialisms are Ian Fleming's James Bond novels, The Booker Prize and literary fiction, with a particular interest in female writers of the 1950s. John deals with sales and purchases.
His main interests outside books are drinking coffee, swimming, driving slow cars and following the mighty Durham County Cricket Club. John's favourite book (by a million miles) is Roald Dahl's 'Danny The Champion of the World'.
LOTTIE ATKINSON
Lottie recently joined us following a career in primary education and brings knowledge of which children's books really are a good read.
She deals with online selling, marketing, postage. Her interests outside work are reading, drinking plonk, riding and spending time with John and their beautiful sons, Joss and Kit.
She has an eclectic taste in books with her favourites being crime fiction, children's books and Dick Francis.
ALLY LOMAX
Since she was very young, Ally loved reading and loved how a good book could transport you to the very realms of your imagination. As a (mature!) student (primary school teacher), she is keen to share her love of books and storytelling with the next generation.
She first read Paul Gallico's novella, 'The Snow Goose', when she was around nine or ten and it remains her favourite book of all time. An atmospheric tale of friendship, love and isolation set amidst the horrors of war, the lyrical prose paints emotions that will stay in your heart forever. Ally highly recommends it!
When she's not leafing through the books in the shop, her other interests include horse riding, horse racing, music and being Evie's mum.
PAUL RUTHERFORD
Paul and John have been friends for well over 20 years now. He has leant a hand numerous times over the years but became a permanent fixture at the start of 2020.
They have played cricket badly together over the years, played golf badly together over the years, bet on horses badly together over the years, however, they have now been successfully working together.
Paul handles the photography and inventory management of the books over the four retail platforms that they currently sell on.
When not at work Paul's time is taken up with his young daughter Catherine, and what little time he has left after that is spent watching sport, listening to music and occasionally going for a jog. He is also a fan of Southampton FC (someone has to be…).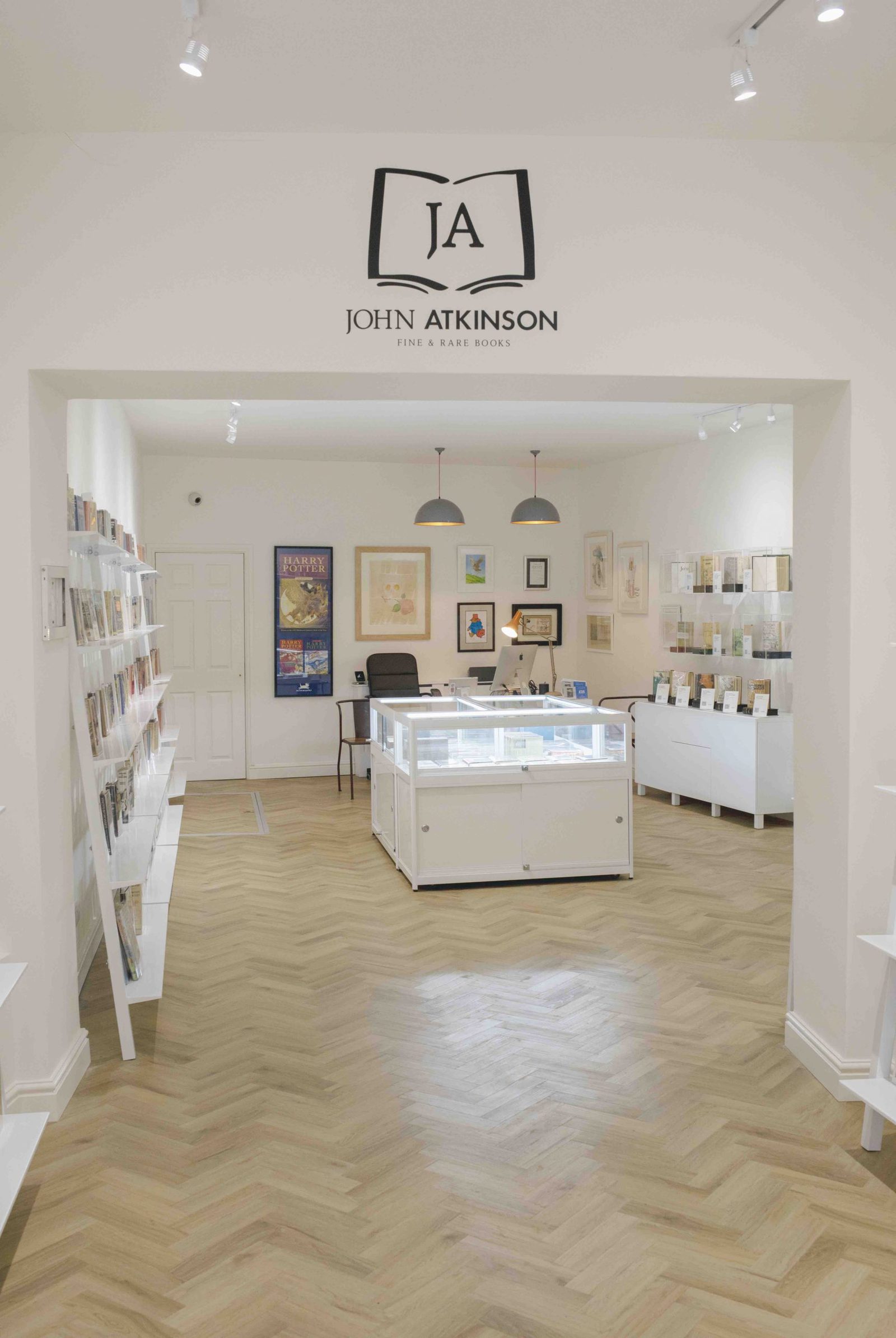 ABOUT OUR BUSINESS
The business has been operating online for around eight years, with over fifteen years of collecting experience on a range of genres, specialising in literature, crime and detective fiction and adventure novels.
Offering highly collectable first edition volumes, which are signed, rare and which are wholly unique. The aim of the website is to highlight a selection of titles within our stock.
John Atkinson Books are full time book sellers and full members of the ABA (Antiquarian Booksellers Association), ILAB (International League of Antiquarian Booksellers) and P.B.F.A. (Provincial Booksellers Fairs Association) – and are proud to trade under their guidelines.
Unless stated within the description, ALL our books are first edition, first printings (impressions).
Missing Moonraker?
As we are constantly updating stock on our website, the books available from us are only a small selection of our actual stock.
If you require a certain title which is currently unavailable on our main site, we do offer a book search service for we are able to source the title you require within a 7 day time-frame.
Collection Builder
As a client of John Atkinson Books, we offer tailor-made solutions to first edition collection building.
Be it the final book to complete a collection or a full twenty book run, we would expect to source any book within a 7 day time frame.
With our free worldwide delivery, our quoted price is all you have to pay, no matter how many books you order.
Birthday / Christening / Wedding Present Service
Why not let John Atkinson Books provide your loved one with a collectable first edition published in the year of their birth?
Choosing a book, an author or a subject close to someone's heart, you'd be showing the recipient how carefully you've thought about them.