Footballing First Editions
JA Books
Footballing First Editions
Following the growth of the World Cup in 1930, books about football gained popularity with Sheffield Wednesday, Everton and Queens Park Rangers becoming the first clubs to publish their histories. After the Second World War there was a publication surge of football books with many notable players going into print. There is a fascinating range of football books which reflect on the many different aspects of the sport; such as those which focus on the history of the game with reference to rules and regulations, and books which explore the history of iconic football venues and organisations such as UEFA.
Perhaps the most publicised football books are auto biographies by prolific payers, such as Roy Keane's 'The Second Half', (co-written with Roddy Doyle) which presents a highly entertaining, if at times controversial, memoir.
However, at John Atkinson Books we believe that some of the best football books are written by players from the 'golden age' of football during the 1950s and 60s. These books are equally as entertaining yet represent honest and descriptive accounts of footballing past.
Some of our first edition football books include:
'Soccer the Lawton Way' by Tommy Lawton £325 (signed)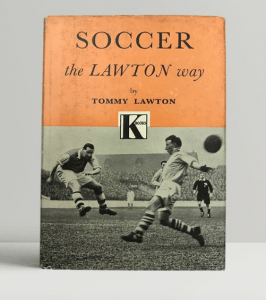 Using his twenty years' experience of playing football, this first edition (published in 1954) details how to play soccer the Lawton way! Filled with training advice and tips on how to approach the game, this is a book "of revelation" for any budding player.
Lawton turned professional on his 17th birthday, signing for Burnley with a move to Everton in 1937. He became the First Division's top scorer in 1938 and 1939 respectively. Following the Second World War, Lawton signed for Chelsea in 1945 and scored a record 26 goals in 36 league appearances. He saw out the remainder of his playing career with Arsenal before becoming manager of Kettering Town, leading them to the Southern League title in 1957. Lawton died in 1996 and his ashes are held at the National Football Museum.
Tommy Lawton – Soccer The Lawton Way – First Edition 1954 – SIGNED
'The Stanley Matthews Story' by Stanley Matthews £375 (signed)


Told by Matthews in his own words, in his own way; this book brings back to life each match he played in. "The Wizard of the Dribble", Matthews was the only player to be knighted while still playing professionally which he did until the age of 50.
Following his retirement, Matthews travelled the world coaching enthusiastic amateurs. Most notably, he established an all-black team in Soweto, South Africa, despite the harsh apartheid laws of the time.
Matthews died aged 85 on the 23rd February 2000 and 100,000 people lined the streets of his hometown of Stoke on Trent to pay their respects as the cortege passed by.
Stanley Matthews – The Stanley Matthews Story – First UK Edition – SIGNED
A first edition, first printing by Osborne Books in 1968, signed by Stanley Matthews.
'The Book of Soccer' edited by Bobby Moore £650 (signed)


'Billy Wright's Book of Soccer' was one of the most successful football annuals for several years. In 1965, its successor was introduced, edited by Bobby Moore, the skipper of England and West Ham United. Focusing on the then upcoming World Cup finals in 1966, the book highlights the top soccer stars of the time and fascinating insights into the game. Contributors include Denis Law, Tommy Docherty and Joe Mercer.
Signed by Bobby Moore, with provenance of signature from the previous owners, we have not seen another Moore signed copy of this book in 15 years!
Bobby Moore (eds.) – Book of Soccer – First UK Edition 1965 – SIGNED
A truly rare first edition, first printing by Stanley Paul in 1965. Signed by Bobby Moore.
'Tackle Soccer This Way' by Duncan Edwards £225


In 1957, the publishers of the book, Stanley Paul, commissioned Duncan Edwards to write a football instructional book based on his great experience and love of the game. On the eve of his departure for Yugoslavia with the Manchester United team, Duncan Edwards passed his manuscript over with much enthusiasm. He was killed on 6th February 1958 when the plane carrying Edwards and his Manchester United teammates crashed on its third attempt to take off from Munich-Reim Airport. Initially, the publishers wished to cancel the book but with support from Edwards relatives it was decided that the book should be published as a permanent record of his love for the game.
Duncan Edwards – Tackle Soccer This Way – First UK Edition 1958
An unusually good example of a first edition, first printing by Stanley Paul in 1958.
'Mexico 70' by Martin Peters, £175 (signed)


Peters began his career playing for Dagenham Boys, which also produced Jimmy Greaves and Sir Alf Ramsay. Subsequently signed for West Ham in 1959 he played in every position and his £200,000 transfer to Tottenham Hotspur in 1970 was a British record. 'Mexico 70' is a professional, sensitive, and personal account of England's defeat to West Germany in the 1970 World Cup, written at the heart of the action.
Martin Peters – Mexico 70 – First UK Edition – SIGNED by the Author
First edition, first printing by Cassell in 1970 and signed by Martin Peters.