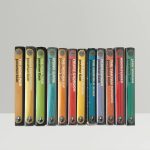 Gash, Jonathan – The first 12 Lovejoy novels – The Judas Pair; Gold from Gemini; The Grail Tree; Spend Game; The Vatican Rip; Firefly Gadroon; The Sleepers of Erin; The Gondola Scam; Pearlhanger; The Tartan Ringers; Moonspender; Jade Woman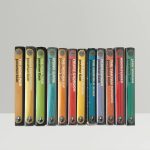 Gash, Jonathan – The first 12 Lovejoy novels – The Judas Pair; Gold from Gemini; The Grail Tree; Spend Game; The Vatican Rip; Firefly Gadroon; The Sleepers of Erin; The Gondola Scam; Pearlhanger; The Tartan Ringers; Moonspender; Jade Woman
£1,000.00
£1,000.00
PLEASE NOTE:
We are still posting books everyone.
Keep safe and keep reading!
Twelves volumes in total. Original red boards, titles to spines gilt. With the dust jackets. Volume 3 is the author's Dutch literary agents' copy. Sleepers of Erin is signed and inscribed by the Author. The Judas Pair hasthe Collins Crime Club sticker to the front panel. Firefly Gadroon is signed by Frank Mills who played Eric Catchpole's father in the TV series – this was the first episode. All very good+ to fine condition. An excellent set in the dust jackets, only volume 3 is price clipped. First editions, first impressions. The first twelve books in the Lovejoy detective series. A vastly underrated series of mystery novels which replicate the first TV series starring Ian McShane; hard-hitting and brutal in nature. Whilst the TV series became more light hearted, the novels stand as gritty canon and a really good read.
Description
Twelves volumes in total. Original red boards, titles to spines gilt. With the dust jackets. Volume 3 is the author's Dutch literary agents' copy. Sleepers of Erin is signed and inscribed by the Author. The Judas Pair hasthe Collins Crime Club sticker to the front panel. Firefly Gadroon is signed by Frank Mills who played Eric Catchpole's father in the TV series – this was the first episode. All very good+ to fine condition. An excellent set in the dust jackets, only volume 3 is price clipped. First editions, first impressions. The first twelve books in the Lovejoy detective series. A vastly underrated series of mystery novels which replicate the first TV series starring Ian McShane; hard-hitting and brutal in nature. Whilst the TV series became more light hearted, the novels stand as gritty canon and a really good read. WAS£1000